Why Mykonos is the Ideal Wedding Location
10:24 PM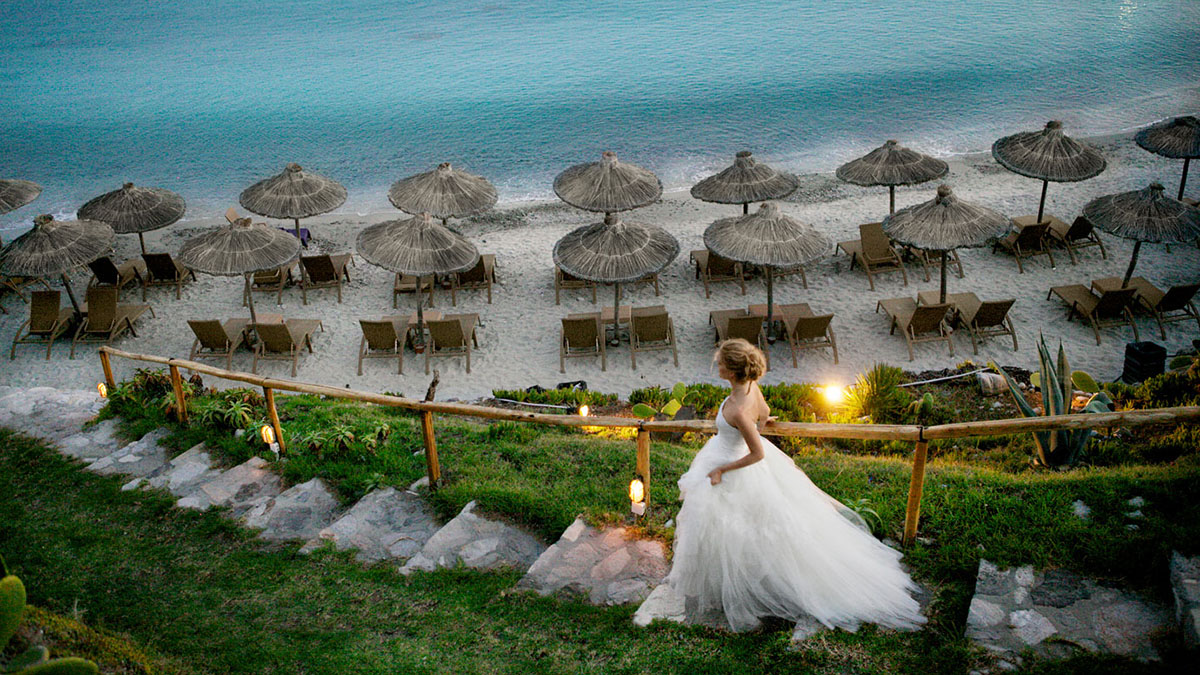 The fairy-tale scenery of the Cyclades, breath-taking sunsets, rocky cliffs, cobalt waters and dazzling white houses – this is what makes the island of Mykonos the ideal location for a destination wedding.
As one of the most popular islands of the Cyclades, Mykonos is known as the great glamour island of Greece. It is a favourite wedding and honeymoon destination for people from all over the world and a paradise for couples who want to have a unique and exotic wedding.
Here is why Mykonos is the ideal wedding location for couples looking for a fairy-tale wedding.
1 –Many luxury villas to choose from
With a number of luxury Mykonos villas available to travellers, couples can enjoy the most of what this beautiful island has to offer. From beach front villas to villas situated in the chic capital town, couples who choose to stay in these villas can also avail exclusive Mykonos wedding planning services.
From food, decoration and music to marriage licenses and guest greeting services, the staff at the luxury villas will take care of everything, if they have a great concierge team that is. Villas who have concierge teams whom offer a 24/7 service are beneficial and will help in making your dream wedding come true.
One of the most popular villa providers who also organise Mykonos weddings are Blue Villas, who have a team of workers who are committed in making sure everything goes smoothly on your big day. They can meet you at the airport and transfer you to a lavish villa where expensive champagne will be awaiting you, breakfast will be cooked and a masseuse will take care of you before you get into your wedding dress.
All you really have to do is pick a date as everything else will be left in the hands of the professional Mykonos wedding planners! You can read more about this service over at http://www.bluevillascollection.com/into-the- blue/events/wedding-mykonos.
A villa wedding in Mykonos also means that you and your guests can enjoy a breath-taking sunset right from the villa, along with stunning views of golden sands and crystalline waters of the Mediterranean.
What's more, villas offer unmatched privacy and convenience for couples and their guests. From private swimming pools, a fully equipped kitchen and a number of rooms and bathrooms, couples can certainly keep their wedding guests entertained while avoiding the hassle of crowded, noisy and overbooked hotels!
2 –No shortage of breath-taking locations
Mykonos is paradise on earth. In the island town of Chora, you are likely to see whitewashed alleys on a blue-white background, beautiful architecture, white houses, picturesque churches and flowering bougain villas. Couples and the wedding party can explore places like Little Venice, which is full of traditional Greek bars and restaurants.
Couples can also enjoy an exciting nightlife with a number of beachfront clubs and bars – there is no shortage of stunning locations on the island of Mykonos.
Other breath-taking locations on the island of Mykonos include the iconic windmills, historical sites such as the church of Panagia Paraportiani and the unique inland settlement of Ano Mera, etc.
3 – Variety of local Aegean specialties
One of the best parts of having a destination wedding is the
local cuisines and specialities
– and Mykonos offers a wide variety of local Aegean specialties. Instead of a boring wedding menu, couples can opt for an exotic menu with delicious Greek specialities.
As a cosmopolitan island, Mykonos is also home to some of the best bakeries and bakers in the country – couples can easily instruct their wedding planners to order a beautiful custom-made cake for their special day.
4 –Great beaches to explore on your honeymoon
While Mykonos has an amazing party scene, you can easily escape the party with your significant other. With a number of secluded and stunning beaches, you can spend a lazy afternoon lounging on the beach with your partner. Beaches such as Agios Sostis, Lia Beach, Agios Stefanos, etc. have golden sands and crystal clear blue water. These are great spots for getting away from the crowd and spending a romantic evening watching the cruise ships come and go.
5 –Sightseeing tours for couples and wedding guests
For newlywed couples and their wedding guests, Mykonos offers
a number of enchanting tours and excursions
. From yacht cruises to boat and jeep tours, there are so many activities and things to see in and around Mykonos that you and your wedding guests will never be bored of. As the host, you can arrange a sightseeing tour to the nearby island of Delos which is known as the sacred island of the Greek god Apollo. You can also book a rehearsal dinner on a yacht cruise to the lovely uninhabited and unspoiled island of Rhenia.
The island of Mykonos is one of the most beautiful islands and the top choice for a destination wedding in Greece. Due to its stunning beaches, idyllic sunsets, sophisticated nightlife, picturesque villages and delicious cuisine, Mykonos is the perfect destination for a unique and truly memorable wedding. Whether you want a large luxurious wedding or a small romantic ceremony, be sure to book a private Mykonos villa for the perfect experience.